Support the Reggae Girlz
with every Amazon purchase
The Reggae Girlz Foundation (RGF) is a nonprofit 501c3 organization whose mission is to inspire, educate, mobilize and support the next generation of young female football players in underserved communities.  Through our initiatives, we strive to level the playing field and create more opportunities, access, and visibility for young women in the sport of football.  Together, we can provide these young women with a fighting chance to succeed by expanding access in the sport of soccer/football, improving their overall health, life skills, education and ultimately maximizing on their true potential.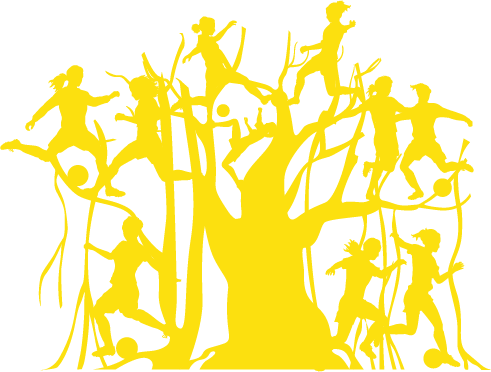 Michelle Adamolekun
President
Michelle Adamolekun
President
Michelle Adamolekun is an talented human capital business leader with 23+ years of progressive Human Resources and Operations experience across the financial, educational, high tech and healthcare industries.
Michelle joined Ascension Health as the Regional VP & Chief Human Resources Officer for Ascension Health in 2015, with oversight for over 23,000 employees and responsible for the development and implementation of an enterprise-wide talent strategy to support the organization's strategic roadmap. Ascension Health is the largest Catholic health system in the world and the largest non-profit health system in the United States with facilities in 23 states.
Among her list of accolades, Michelle has a Masters of Science degree from Texas State University, a Bachelors of Arts degree from the University of Texas at Austin, certifications as Professional in Human Resources (PHR), Global Career Development Facilitator (GCDF), Board Certified Coach (BCC), and is a certified DDI & Emotional Intelligence (EQi) trainer and assessor. Michelle was the recipient of a full scholarship in the sport of Track & Field from 1989 – 1993 and the Earl Campbell Scholarship in 1992 at the University of Texas at Austin.
Michelle strongly believes in giving back to her community and currently serves as President & Co-Founder of the Reggae Girlz Foundation. She has also served as a board member/officer for St Vincent's Health System, Sacred Heart Health System, the Central Texas Workforce Solutions Board, Capital Idea, Meridian World School, Jack & Jill of America – Austin Chapter, the NBMBAA-Austin Chapter Executive Advisory Council and the Lake Travis Middle School Campus Advisory Committee.
Michelle has been a featured speaker for numerous professional organizations within the Florida, Alabama, and Central Texas areas and has been applauded for her active commitment to mentoring and coaching activities.
Michelle and spouse Lanre of 23 years are the proud parents of son, Nathaniel (20) and daughter, Olufolasade (18).
→  Email Michelle Adamolekun
Ruthanne Mitchell
Vice President
Ruthanne Mitchell
Vice President
Bio coming soon.
Lisa Quarrie, ESQ
Parliamentarian
Lisa Quarrie, ESQ
Parliamentarian
Work Experience
NextEra Energy Resources, LLC

o

Director, Mergers & Acquisition 2014 – Present
Senior Attorney, Real Estate, Land Use & Envir. Group (2007 – 2013)
Senior Attorney, Commercial Transactions Group (2011)
Education
Juris Doctorate – NOVA SOUTHEASTERN UNIVERSITY (Cum Laude)
Masters of Public Administration – UNIV. OF AKRON (Summa Cum Laude)
Bachelors of Arts – CENTRAL STATE UNIVERSITY (Magna Cum Laude)
Pro Bono Activities
Board of Directors, Children's Home Society (2013 – Present)
Committee Member, National Bar Association's Gertrude Rush Dinner Committee (2007)
Immediate Past-President, F. Malcolm Cunningham, Sr. Bar Association (2005-06)
President, F. Malcolm Cunningham , Sr. Bar Association (2004-05)
President-elect, F. Malcolm Cunningham, Sr. Bar Association (2003)
Chair, Gender & Diversity Committee, Palm Beach County Bar Association (2003)
Board of Directors, Boys & Girls Club of Riviera Beach (2003-04)
Executive Committee, Young Lawyer's Section, Palm Beach County Bar Assoc. (2003)
Member, Lawyers for Literacy Committee, Palm Beach County Bar Assoc. (2003)
Member, Virgil Hawkins Florida Chapter National Bar Association (2003)
Secretary, F. Malcolm Cunningham, Sr. Bar Association (2002-03)
Member Legal Aid Society, Fund-Raising & Domestic Violence Committee (2001)
Member, Florida Association of Women Lawyers (2001 – 2005)
→  Email Lisa G. Quarrie
Theo Burnett, CPA
Treasurer
Theo Burnett, CPA
Treasurer
Mr. Burnett is already an active Board Member by spearheading a fundraiser in Atlanta, Georgia via his Golden Krust store where over $10k was raised and donated to the U17 Women's Team for the World Cup Qualifiers.
Burnett is currently resides in Georgia, but attended Clarendon College and played soccer there. He migrated up to the United States where he received a soccer scholarship to the Sacred Heart University in Connecticut. Theo used his talents, hard work and entrepreneurship skills to become a licensed CPA and Financial Controller in both the private and public sector.
Theo's on-going mission and philosophy is to convert hard work into Success/rewards and perform meaningful philanthropy both locally and abroad. Theo believes the success of his business ventures can inspire others no matter their background, as long as they believe in themselves, willing to work hard and display kindness and respect to others. When Theo is not working (don't know when) he is doing the things he loves best – playing soccer and traveling.
→  Email Theo Burnett
RGF Foundation Committees
Scholarship / Grant Committee
Mentorship Committee
Fundraising Committee

Audit Committee

Membership Committee
RGF Partners / Sponsors
Sponsorship:
Corporate Level Sponsors

Platinum Level Donors

Gold Level Donors

Silver Level Donors
RGF Pro-Ambassadors
Reggae Girlz National Team representatives are dedicated to the foundations mission and willing to partner to help raise global awareness of the organization and its programs across the Jamaican Diaspora.