The Reggae Girlz Foundation (RGF) is a nonprofit 501c3 organization whose mission is to inspire, educate, mobilize and support the next generation of young female football players in underserved communities.  Through our initiatives, we strive to level the playing field and create more opportunities, access, and visibility for young women in the sport of football.  Together, we can provide these young women with a fighting chance to succeed by expanding access in the sport of soccer/football, improving their overall health, life skills, education and ultimately maximizing on their true potential.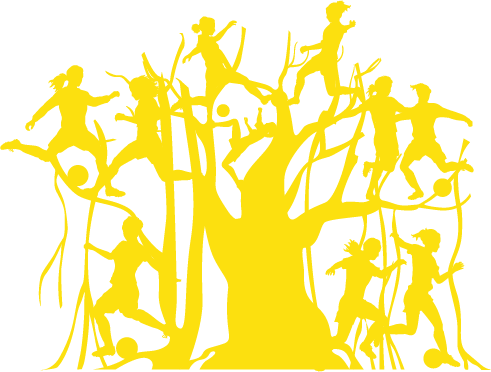 Michelle Adamolekun
President
Michelle Adamolekun
President
Michelle Adamolekun is an talented human capital business leader with 23+ years of progressive Human Resources and Operations experience across the financial, educational, high tech and healthcare industries.
Michelle joined Ascension Health as the Regional VP & Chief Human Resources Officer for Ascension Health in 2015, with oversight for over 23,000 employees and responsible for the development and implementation of an enterprise-wide talent strategy to support the organization's strategic roadmap. Ascension Health is the largest Catholic health system in the world and the largest non-profit health system in the United States with facilities in 23 states.
Among her list of accolades, Michelle has a Masters of Science degree from Texas State University, a Bachelors of Arts degree from the University of Texas at Austin, certifications as Professional in Human Resources (PHR), Global Career Development Facilitator (GCDF), Board Certified Coach (BCC), and is a certified DDI & Emotional Intelligence (EQi) trainer and assessor. Michelle was the recipient of a full scholarship in the sport of Track & Field from 1989 – 1993 and the Earl Campbell Scholarship in 1992 at the University of Texas at Austin.
Michelle strongly believes in giving back to her community and currently serves as President & Co-Founder of the Reggae Girlz Foundation. She has also served as a board member/officer for St Vincent's Health System, Sacred Heart Health System, the Central Texas Workforce Solutions Board, Capital Idea, Meridian World School, Jack & Jill of America – Austin Chapter, the NBMBAA-Austin Chapter Executive Advisory Council and the Lake Travis Middle School Campus Advisory Committee.
Michelle has been a featured speaker for numerous professional organizations within the Florida, Alabama, and Central Texas areas and has been applauded for her active commitment to mentoring and coaching activities.
Michelle and spouse Lanre of 23 years are the proud parents of son, Nathaniel (20) and daughter, Olufolasade (18).
→  Email Michelle Adamolekun
RuthAnne Mitchell
Vice President
RuthAnne Mitchell
Vice President
RuthAnne is rooted to Jamaica thru her father who was born in Lucea. She has been aware of the need for support for the Reggae Girlz and female football in Jamaica since her niece played on the U-20 team in 2011. RuthAnne is a registered nurse of 26 years and also started and operates a non-profit, Mitchell Medical Missions, that has taken 19 teams to Jamaica since 2010. She and her husband Troy have six children and two grandchildren. RuthAnne welcomes the opportunity to serve with the Reggae Girlz Foundation.
Lisa Quarrie, ESQ
Parliamentarian
Lisa Quarrie, ESQ
Parliamentarian
Work Experience
NextEra Energy Resources, LLC

o

Director, Mergers & Acquisition 2014 – Present
Senior Attorney, Real Estate, Land Use & Envir. Group (2007 – 2013)
Senior Attorney, Commercial Transactions Group (2011)
Education
Juris Doctorate – NOVA SOUTHEASTERN UNIVERSITY (Cum Laude)
Masters of Public Administration – UNIV. OF AKRON (Summa Cum Laude)
Bachelors of Arts – CENTRAL STATE UNIVERSITY (Magna Cum Laude)
Pro Bono Activities
Board of Directors, Children's Home Society (2013 – Present)
Committee Member, National Bar Association's Gertrude Rush Dinner Committee (2007)
Immediate Past-President, F. Malcolm Cunningham, Sr. Bar Association (2005-06)
President, F. Malcolm Cunningham , Sr. Bar Association (2004-05)
President-elect, F. Malcolm Cunningham, Sr. Bar Association (2003)
Chair, Gender & Diversity Committee, Palm Beach County Bar Association (2003)
Board of Directors, Boys & Girls Club of Riviera Beach (2003-04)
Executive Committee, Young Lawyer's Section, Palm Beach County Bar Assoc. (2003)
Member, Lawyers for Literacy Committee, Palm Beach County Bar Assoc. (2003)
Member, Virgil Hawkins Florida Chapter National Bar Association (2003)
Secretary, F. Malcolm Cunningham, Sr. Bar Association (2002-03)
Member Legal Aid Society, Fund-Raising & Domestic Violence Committee (2001)
Member, Florida Association of Women Lawyers (2001 – 2005)
→  Email Lisa G. Quarrie
Theo Burnett, CPA
Treasurer
Theo Burnett, CPA
Treasurer
Mr. Burnett is already an active Board Member by spearheading a fundraiser in Atlanta, Georgia via his Golden Krust store where over $10k was raised and donated to the U17 Women's Team for the World Cup Qualifiers.
Burnett is currently resides in Georgia, but attended Clarendon College and played soccer there. He migrated up to the United States where he received a soccer scholarship to the Sacred Heart University in Connecticut. Theo used his talents, hard work and entrepreneurship skills to become a licensed CPA and Financial Controller in both the private and public sector.
Theo's on-going mission and philosophy is to convert hard work into Success/rewards and perform meaningful philanthropy both locally and abroad. Theo believes the success of his business ventures can inspire others no matter their background, as long as they believe in themselves, willing to work hard and display kindness and respect to others. When Theo is not working (don't know when) he is doing the things he loves best – playing soccer and traveling.
→  Email Theo Burnett
THE FUNDRAISING COMMITTEE
Rose Sangster
Rose Sangster
I was born in Jamaica and moved to Canada when I was 10 years old.
My father died when I was 8 years old and his sister decided to take care of their favourite brother's only child was the main reason I moved to Canada.
I am happily married with three beautiful girl children (8, 18, and 20). The youngest is playing soccer.
I live in Toronto, Canada, and am the Director of Finance and Operations at Davenport-Perth Neighbourhood and Community Centre.
My vision is to one day be part of a girls' Soccer Academy in Jamaica, in which young girls get the opportunity to learn, develop mental strength, play soccer and reach their full potential.
I am a former professional soccer player, three Time Hall-of Famer, a three-time All-America, 2-time Herman Trophy Nominee, and a former member of the Canadian National team.
I am a lifelong learner who loves to share the things I have learned on my journey in life.
Dancing, playing soccer, and being in the sun and the near the sea are things that bring me the most joy apart from spending time with family and friends
Karen Bird
Karen Bird
Karen Bird is a Global Supply Chain consultant and Chief Marketing Officer with 30+ years of experience in the Specialty Chemicals, Consumer Packaged Goods and Wine Industries. She has also worked as Operations Manager at Cricket Hospitality for the Cricket World Cup in the West Indies in 2007.
Karen has a Bachelors of Science degree in Chemical Engineering from Drexel University and a Strategies and Leadership in Supply Chains certificate from Stanford Graduate School of Business.
Karen became a trailblazer during her career and has dedicated her volunteer time to helping other under-represented people achieve their full potential regardless of the obstacles that are in their path. From 1995 – 2000, Karen served as Vice President, President and Chair Emeritus of the San Francisco Bay Area National Society of Black Engineers (NSBE). In 2000, Karen was awarded the Career Achievement Award by the Rohm and Haas Global Black Employee Network when she became the first black Technical Manager in company history. More recently Karen has been co-teaching a Professional Seminar Series course on Resume Writing and Interviewing Skills at Tuskegee University in the Food and Nutritional Sciences Department.
In her spare time, Karen enjoys travelling, playing golf and watching sports (especially when her niece or nephews are playing).
Landra Johnson
Landra Johnson
Landra Johnson is connected to Jamaica through her husband, whose family hails from Kingston and St. Ann's Parish.
Landra's professional background is in the field of broadcast journalism; her 10 year career culminating with an assignment as a Washington TV News Correspondent covering the White House and the US Congress. Landra has also served on the boards of various charitable organizations, as well as non-profit and advisory committees including Children's Home Society, The Council for Children's Rights, Women's Impact Fund, and the North Carolina Governor's Entrepreneurial Council.
Landra is honored to work with the Reggae Girlz Foundation to help mobilize support for the women of the Jamaica National Team, as well as younger female footballers throughout the island. She is committed to the cause of promoting the women's game of football.
Landra and her husband, Horace Lancefield Johnson, have a teenage son and a daughter, Avery Johnson, who plays for the Jamaica Youth National Team.
Denise McFadden
Denise McFadden
Denise McFadden serves as HR Analytics and Technology Manager, at a large health insurance company headquartered in Birmingham, AL, and has been employed with the Company for 14 years. Among her many duties, she has been instrumental in advancing the Company's HR and talent management systems, analytical strategies, and numerous business processes. Denise consistently demonstrates leadership qualities to promote communication and synergy among her peer group; and is highly effective at motivating her direct reports. She has also expanded business partnerships throughout the organization.
Denise completed her undergraduate degree in Interdisciplinary Sciences/Biological Sciences at Arcadia University in Glenside, PA.
In her spare time, Denise enjoys soccer, track and field, yoga, and traveling with her husband, Andre, and her two children, Logan and Alex.
Dkay Henry
Dkay Henry
Playing Experience
University of Tennessee at Chattanooga – D1 full athletic scholarship.
NWSL Western NY Flash in 2012
Jamaican National Women's Team 2014 World Cup Qualifiers
Icelandic premier division 2014-2017
Champions League 2017 Round of 16
Ireland premier league – Sion swift 2019
Soccer Coaching Experience
Private Soccer coach and owner of DKAY HENRY SOCCER LLC
Park slope United Head coach
YMCA of Greater New York
YMCA of Suffolk Virginia
Super Soccer Stars
E3sports
RGF Foundation Committees
Scholarship / Grant Committee
Mentorship Committee
Fundraising Committee

Audit Committee

Membership Committee
RGF Partners / Sponsors
Sponsorship:
Corporate Level Sponsors

Platinum Level Donors

Gold Level Donors

Silver Level Donors
RGF Pro-Ambassadors
Reggae Girlz National Team representatives are dedicated to the foundations mission and willing to partner to help raise global awareness of the organization and its programs across the Jamaican Diaspora.